Looking Aggressive!
Kelly: I'm glad I did it because you all were right… the experience and what I've learned was well worth it.
Time trial – I started my tt feeling pretty good but ridiculously nervous. Of course I did the thing I was instructed NOT to do, which was to put too much effort into the first section of the course. When I realized my mistake I tried to back off but my legs already felt the burn. My time, 10:59 was a little slower than my best on practice runs. I was 24 out of 29.
Road race – I managed to hold onto the main field for a little more than half the race but couldn't close the gap that was created when we surged past the women's cat 3. I eventually teamed up with 5 other women also straggling behind. We came close to bridging the gap just before the right turn onto La Canada but just missed it as they made the turn south and slipped away again. The six of us continued to work to the finish.  I was in 16th Saturday night.
Circuit race – the first two laps I misjudged my gearing coming out of the turn onto Greasewood and had to work too hard mashing up that hill and against the wind to catch up. The third lap I over compensated with too easy of a gear and spun out. This, combined with the sprint for the bonus was my downfall. I lost the main field and finished out my two laps with another woman from 2 Wheel Jones. In the end she and I sprinted for the finish and I barely beat her across the line. My victory for the day! I ended up placing 20th.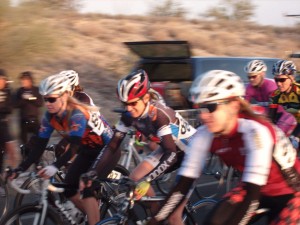 Doug 'Wheelman' Perry:
TT: On my way back to the tent to start my 35 minute warm-up, my rear disc wheel was wobbling … not good. Jim and Gus looked it over and it was determined that the hub had self-destructed and couldn't be used. What to do now … I waited for Liz, to hopefully return to the tent, so I could grab her wheel. I had about a ten minute warm-up and headed for the start. I was focused, and tried to block out the wheel disappoint. I ended up finishing 46 seconds faster than last year (9:24 vs. 10:10) … a little off my best practice efforts of about 9:10. 15th out of 23.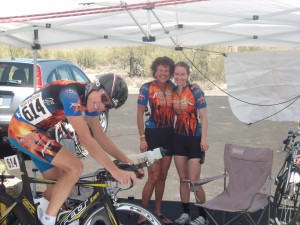 For the road race I was pumped! As we started out, I remembered to stay near the front and was actually chasing down some of the early break attempts … feeling good and strong. Around mile seven, twenty short minutes into the ride, I hit a pothole near the double yellow lines. I rode for another mile noticing my front was a little wobbly.  I pulled over and waited for the wheel truck, got a wheel and started to chase. After 35 miles of soloing, chasing and catching no one, I finally finish. The result … lost about ten minutes and my Zipp 303 rim was cracked. Ugh! 23rd and dead last in GC.
Circuit race: what did I have to lose? During the second of our seven laps, a group of ten broke off and we never saw them again (many of the group were 55!). I was in the chase group and we worked together and for the first time ever, I took off several times (even though I was dead tired from my solo effort yesterday) and made the group catch me … fun! On the last lap, I was gapped on the last climb by several of the guys, but began to catch up on the Anklam downhill and Speedway flats. As we turned onto Greasewood, I followed Richard Duncan to the 200 meter mark and put the hammer down and went around him and beat him by four seconds. Result 16th place. Moved out of the bottom on GC and got to 21st.
Rick: 
TT:  Stuck to my plan, easy on the downhill, just below LT for the intermediate uphill, over LT for the final uphill pitch.  Finished 4/13.
RR:  Felt good physically but had a serious brainfart.  It would seem Gary DeVoss and his buddy from CA went off the front of the 55+ combined peloton uncontested a few km before the finish and I had no clue.  Incredible!!  I was riding Fritz Tomasello's wheel at about position 10 in the  combined peleton planning to follow him to the line and then out sprint him across the line.  He didn't notice DeVoss & Co off the front either. In the end he beat me over the line and we were initially posted as 1 & 2 for the 65+RR.  Next morning we are re-posted as 3 & 4.  What?  I can still hardly believe it. 
CR:  Went into this thinking I was 3rd in GC and just needed to hang unless someone got off the front.  No one did.  I finished 5th in the final sprint with Gary DeVoss just behind in 6th so I figured 3rd in gc was in the bag and nothing was going to change within the top 3.  I do recall a naggy little feeling in the back of my mind when I noticed that Gary DeVoss was wearing the yellow jersey; based on what I had seen on the Internet, Fritz Tomasello should have been wearing it……..Hmmmmm.
Didn't much care for being consigned to the dirt next to the podium; oh well, there's always next year…right?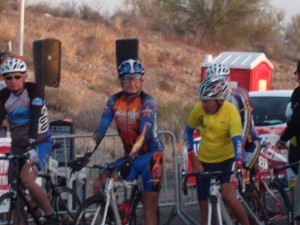 Leo:  TT: I posted an 8:42, which was way faster than I was in training, and I was happy.  I could have gone 10 s faster.  I was 56 back, in 34th place.
RR: The race was sort of hard.  TJ T. was on the front punishing the field for miles and miles.  The group broke up a little on the second climb, after a fairly easy first lap.  I did some pulling, but no attacks.  I lost Mike and Jeremy on the second climb.  We turned onto the second trip to the rollers, and it got brutal for about 30 minutes.  TJ pulled the whole time, damaging the yellow jersey severely.
We hit the final climb, and I felt fluid and comfortable.  We sprinted into a headwind, and I was not tired, but did not assert myself, still going by several people at the line, which is rare for me, especially since I started in cat 3.  The initial results put me in 11th, moving to 29th place, fining me $20 for not signing in.  Later they put me at 17th (pack finish), and I stayed in 29th.
CR: the wind was starting to swirl.  It dawned on me on the third lap that we had a cross wind from the Southwest, so that we fought it on Anklam to the turn into the climbs, and then on Speedway heading to Greasewood, hitting a headwind on Greasewood.
The third lap sprint was not hard, but the cross wind on the 4th lap started to hurt.  I had to pass several guys who were cracking ON THE DOWNHILL, and nearly did so myself.  I don't know how, but I climbed with the group past the feedzone and survived.  The fifth lap was worse, but not quite so hot, and probably 5 more guys were gone.  As we turned onto Greasewood on 5, three guys attacked, and stayed away.  The leader was cooked. TJ kept telling him to get on the front, which he did several times.  If you want to win, you better work.  We followed the attack for a lap, keeping a one minute gap.  Sixth lap done, three more guys got off the front on the downhill, and we could not get them back, and no one really wanted to help the yellow jersey.
We turned onto the last climb on Greasewood into gale force winds.  Another slow-mo sprint, which I came 25th, pack time behind six attackers, moving up to 22nd GC.
TJ took the yellow.  Hard core racing by simply outworking the leader with style and grit.
Jeremy:  Ok, it might have looked like I didn't perform well at TBC.  However, in fact I did my best.  I embraced the pain and rode pretty well solo for 4 or 5 minutes of the race.  On both Saturday and Sunday I picked up and was picked up respectively which account for the other 10 minutes.  For the most part I didn't want to quit (maybe when the wind picked up and every time I passed the start finish on Sunday).   I raced to have fun and prove to myself that I can still get out there a ride with these guys at least 95% of the time.  
Liz 'Aggressette' Perry: 
Time Trial – Like Doug, I had faithfully followed the Jimmy program and had practiced the TT route many, many times.  My biggest fear was going off the ramp!  Jimmy said to get there a bit early and see if I could do a trial run off the ramp.  I asked a random woman cyclist who was standing near the ramp, if she would hold me, so I could try the ramp.  She agreed and I went off with no problems.  I worked really hard and finished with a 11:17.
Road Race – Despite getting up at 4:00a.m. and leaving the house on time, Doug and I found ourselves really rushed.  I never even had time to warm up, which was crucial, because it was stinkin' cold!  The Masters Women 45+, 55+, 65+, all started together and I started strong.   After about three miles, three of us got dropped and started to work together.  Then we lost another girl, so I was working with just one other, for the entire first lap of the race.  After I crossed the railroad tracks on the second lap, my calves started cramping; tried to stretch them out, but when I stood up, my quads started cramping as well.  I got dropped   😥   So, for about 19 miles, I rode alone, in severe pain.  I did finish, but it was tough.
Circuit Race – Again, another morning up early, but the time flew again and not nearly enough warm-up time.  This time, I was dropped immediately from the main field and rode the entire race alone!  I thought about waiting for two women that I knew were behind me, but I couldn't even see them and just wanted to finish without crashing. Ended up getting 3rd in the GC  😀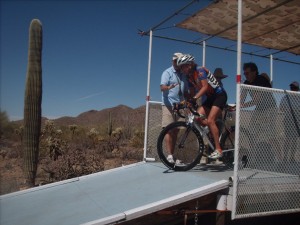 Report by Aaron
This last Saturday was race #4 in the MBAA state championship series, and it was held on Ft. Huachuca in Sierra Vista. The weather was awesome other than some wind, but hey, this is Arizona in March, right?? Besides, we were on mountain bikes! It was great to have Beto and Paula at the race this weekend, and they were the first ones up in the Marathon Open cat. at 8:00 am. Before the race, Beto had mentioned that he was content to just have a good race and get some good miles in, because he was, after all, competing on a single speed against some very strong riders on geared bikes! But for those of you who know Beto like I do, we know he is incapable of doing anything with less than everything he has. He leaves it all on the course EVERY time! And that's exactly what he did. Despite being the ONLY man on a single speed, he proceeded to annihilate the field right from the get go (which required an incredible amount of "dig deepedness")! He was the ONLY one to complete 8 laps of the brutal course, and brought home an inspiring 1st place finish against a tough field! AWESOME job, Beto – nator!
Paula was in the women's open marathon class, and was ALSO riding a single speed. Not only did she finish in first place VERY handily, but she completed just as many laps as the 2nd and 3rd place finishers (on geared bikes) in the MEN'S open cat! WHAT?!?! Strong work, Paula!!!
Well……..I only wish my performance in the single speed open cat. had been so inspiring! I definitely had a rough race. Legs just were not having it on Saturday, and I dropped my chain several times during the race. But even with the mechanical snafu, I was clearly not the strongest rider that day, and couldn't help but feel disappointed in my performance. I hit a wall early in the race with my legs, and no matter how hard I pushed, I couldn't break through it. I had ridden extremely hard earlier in the week, and don't think my legs had fully recovered. I am still learning so much every week, and that's a great positive! Fortunately, I was still able to manage a 3rd place podium finish behind 2 very strong riders, and was able to maintain my lead in the series. And in spite of any of that, I had a great time with my amigos and my team mate! Thanks for the cheering and encouragement, Beto!! I know I speak for both of us when I say we are as driven as ever to work hard and succeed, and represent Aggress with integrity, strong racing, dedication, AND to have a WHOLE LOTTA FUN along the way! Ride on Aggressors!  Results
Tumacacori
Leo: 10 laps on the course is a backbreaker in any condition.
21 cat threes came to the line.  I had water, a carrot, and a bunch of other food.  Turns out I needed every bit of it.  We started pretty mellow, Beto and I conversing about strategy on the first climb.  I was climbing really well in the group, watching guys do the funky slinky on and off the back lap after lap.
I figured there would be a major attack on the fourth climb, which there was.  It was two skinny kids from out of state and Darien doing most of the work.  We kept reconvening at the top.  The fifth climb was fine, and I took a bottle from Nippy.
We got to the sixth climb, and I exploded in the feed zone unexpectedly.  It was just over.
I was in such pain, I considered abandoning, but I could not bring myself to do it after the 7th climb.  Poblanski clawed his way up to me at some point, and he dropped me on maybe the 7th climb.  Next lap a Ride-clean guy caught me, having flatted the previous lap.  He dropped me too.
I was lapped twice by the pros, and got lapped by the winner from our field at the finish line.  The 10th lap was not that bad.  On the 9th I had pretty much locked up in both legs, but that went away with my carrot.
Beto:  The Cat 3 race had a good turnout, with Darien Newman and a Strada racer leading the way.  I had a little more motivation going into this years Tuma race.  For the first time, I had a teammate at Tumacacori, and a young gun from my short-stint former team from Minnesota in the race.  A 16-year-old junior who will be upgrading after this race and was this years CX national champ, plus all the hype from the Flanders camp in SV! 
The race consisted of 60 miles, 4500+ feet vertical, and 80 degree climate, either you were going to bail or get torched.  I am proud to report that no Aggressor on this day succumbed to the latter.  For those of you who have done this race, it is well known that the pace leading into the steep climbs is what makes or breaks you.  On this day the peloton stayed together until the 7th lap.  Five riders prevailed in opening a gap at the top of the last climb.  I was in the 7th spot and couldn't make the break.  I figured we had a better chance regrouping with the help of the chase group.  A Landis rider and I did the bulk of the work at the front, with a pesky Team Coleen rider hooking the chasers for his teammate who was in the break (Flanders' rider was also in the break!!).  I made numerous attempts to organize the chase, but nobody was willing to work.  At one point, I instructed the racers to get organized while I counter-blocked Newman's teammate, still nobody was willing to cooperate.
Our chase group dwindled to 5.  The break also dropped several riders who were swallowed by our chase group but their efforts to stick the break rendered them useless and soon dropped from our group (Flanders kid was also part of the carnage).  The Landis rider and I pounded the pedals in attempt to drop our wheel suckers and reconnect with the leader, to no avail.  Although my endurance was starting to kick in and the climbs seemed to get easier, we had run out of time and a sprint to the finish was in order.  I was in the third spot 400 meters from the finish.  I held until one of the riders jumped.  I went around him to early and ran out of gas and finished  7th .  This was a race of attrition, Leo and I finished the race, which was the only thing that seemed to matter at the time, and will probably hold truth when it's time to do it again next year!   Results
Post by Doug Perry:  The Perrys get two podium finishes for Team Aggress!
Not a major event on the calendar, but for my group, Masters M60+, it brought out the two strongest riders in our category: Reg Dowdall and Phil Holman. These two guys were on the podium last year for all the State Championships. So, going in I was pretty much looking at third place being the best I could possibly get. However, signing up, I saw Glenn Harris and, knowing that I had never beat him in a TT, things weren't looking too good.
The headwinds were pretty strong going out … and, on the way back, why does it always seem that what should be a tailwind, turns into a crosswind …? Of course, on this TT, there is climbing of about 100 feet per mile going out as well … made for an interesting day!
I set a personal goal, based on the few earlier TT's that I've done, of finishing in under 50 minutes. I achieved my goal … by one second – 49:59! I also got third place and that was pretty cool, too! Finishing just 3 minutes behind Phil Holman made me feel good too … I know that's a whole lot in a TT, but considering how new I am to the world of TT's I'm good with that time.
Liz did great … capturing a second place in the Masters F55+. Before the race, we discussed her goals and based on the fact that she had no aero equipment at all (no aero helmet, skin suit, booties, aero bars, or aero bike) and that this was her second TT ever, we felt anything under one hour five minutes would be great. She finished in 59:58! A great accomplishment!
 Doug
Eljet wins!  Once again, an Aggressor in a sheep's kit racks up another win.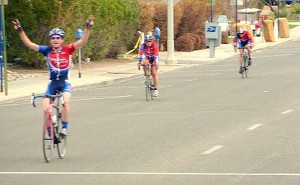 Leo the Lionhearted:  I went out for the 40+, no warmup due to poor planning and yardwork, and rode hard on my dura ace tubies until two RPM guys in front of me popped on the downhill into the wind as Paul made the winning move.  I couldn't overcome the instant 50 foot gap and got whistled off.
I then went to the cat 3 and kept the DA's rolling.  I went better, but got locked in at the back, unwilling to expend the erg's to get to the front.  Just sat in and watched the crashes at the end as two guys rolled tubies off their rims.  Elliot won!!!!!
Mike: Good job guys! I got in the top ten (9th I think) in the 30+ race, and it was tough. Stacked field.
Rick: When it became clear part way thru lap 1 that nobody in our group particularly wanted to pull, I made the strategic decision that I would keep my HR no more than a few beats below redline for the 30 min period, and if that meant pulling, then I would pull.  Fellow Aggressor Doug Perry did provide a couple of laps of much appreciated rest part way thru the race.  No one else in our group pulled at all.  Toward the end only a pair of Summit-Velo riders were with us and one of them faded with about 3-4 laps to go.  On the final lap, Doug came around me a couple of turns before the finish with the remaining Summit-Velo rider on his wheel and the Summit-Velo rider then came around Doug on the last turn and (barely) outsprinted him to the finish (damn!).  I really had no sprint to speak of and crossed the finish perhaps 30 ft behind them.   So, in the end Aggress had 2 riders on the podium and I managed to collect a $25 prime at some point in the middle of the race.
During the post race discussion, Doug and I agreed that we should have tried a 2-man breakaway with 4-5 laps to go, especially given that only the Summit-Velo pair of riders was hanging with us at that point.  This was my first race actually working at all with a Team mate and I kind of think I learned a thing or two and we should do better the next time we have an opportunity.  
Results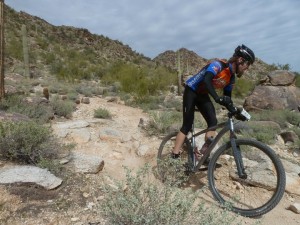 From the newest Aggressor, Aaron Prudler:     I am currently in the hunt for the MBAA Singlespeed Open state championship, and this weekend was race #3 in the series. It was also my first race representing Aggress! The race took place at White Tank Mountain Park, west of Phoenix. The Cat 1 course consisted of 4 perimeter loops of the competitive track, each of which included two technical sections and one good climb, especially at race pace! I showed up Saturday morning to see that the pros had come out to play in my cat. in the form of Dejay Birtch and Tom Ament…….two Very strong riders…..OUCH!….I was in for a tough one. After some much needed encouragement from my amigo, Beto Villegas, I was ready for the start line. Tom Ament (Vassago Bikes) jumped out in front off the start with Mike Haas (Exhale Bikes) on his wheel, followed by Dejay Birtch (Ergon/Niner), and myself rounding out the top four. Dejay Birtch and myself were content to start off at a strong pace without waisting ourselves, however Tom Ament attacked from the start, leaving us no choice but to roll with it. After a few miles, Mike (Exhale) got hung up in some rocks, and Dejay and I made our move into second and third position. We dropped Mike almost immediately, and increased the gap over the next few miles. Dejay took the lead before the first Tech section, and I was able to maintain contact with he and Tom through the first big climb, however lost contact by the end of the second real technical section. Mike was not far behind me, and I knew I had my work cut out for me, if I was going to hang onto third and podium with the pros……….I wanted this one BAD! By the the time we came around for the big climb the second time, I looked back to see that Mike had put some time into me…….It was time to go for the mental attack! I hammered the climb hard, and made it appear that I wasnt suffering, but of course I was! After talking with Mike after the race, it worked perfectly. I never saw Mike behind me for the rest of the race, however I left nothing to chance and left it all on the course. Tough,considering I lost a bottle on the course, and finished the last lap and a half on about four sips of Accelerade! I was unable to make contact with Tom or Dejay, and finished in third place, which I was incredibly excited about for many reasons, two of which are: 1.I podiumed with two seasoned, sponsored pros, and 2. This race put me into the lead in the state championship series!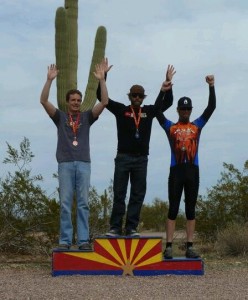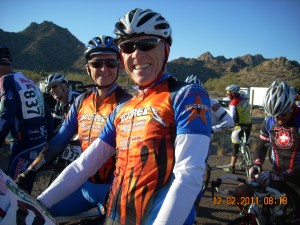 This weekend Rick Ellwanger, Leo Masursky, and I did the Valley of the Sun race … it was tough and had lots of excellent riders. There were 18 in the MM60+ category and only 8 were from Arizona, the other ten were from New Mexico, Canada, San Diego, Utah, South Carolina, and Connecticut. I ended up 9th in the GC. Here's a brief report for each stage:
2011 VOS TT : Headwind going out of approx. 7-9mph. Finished in 37:48, 23mph. This was 1:32 faster than when I did this in 2009. Overall pleased with my finish in the middle of our group (11/18). Thanks to Bryan Schlegal for the loan of his TT  bike!
2011 VOS RR: Came in 10th. In 2009 finished in 2:07:09, this year I finished in 1:55:46. Cut off 11:23!! Got gapped from the lead group after the first climb of the long hill, worked with five others to catch back on with the leaders just at the lead up to the long climb … got gapped again and couldn't catch back on … after riding alone I caught a 50+ guy that got dropped from the lead group, we worked together until the lead up to the climb and I was able to break away at that point. Lost about 3-4 minutes to the leaders, but I'm overall pleased with my improvement and hope with more work next year I can finish with the lead group and contend for the win!!
2011 VOS Crit: Came in 8th. Crazy fast at the start and got dropped by the leaders on 2nd lap. Worked in a small group that included Richard Thompkins, AZ Masters,  and several 50's .. was able to nip Richard at the wire (he had won quite a few crits in our age group last year).
Leo: For the RR (this was my inaugural VOS), I felt good and was climbing well in the group.  I got an excellent feed from Will after the third climb and was really happy.  I then hit a massive pothole just before the turn into the wind and chased with Richard Hurst for the rest of the day.  I was tired at the end, but Jimmie's program really worked.
For the crit, I was feeling fine, and flatted with five laps to go; dnf.
Having raced the previous weekend (McD, and Bike Haus cr's), and this weekend, I'm feeling great about the season, but I've got to up my top end for TT's.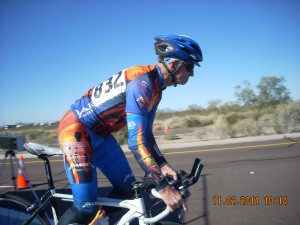 Rick:  The TT came off pretty much according to plan in terms of effort.  My objective was to maintain a HR of 158 out and back and I in fact did 158 out and 159 back.  My AT is 161 so I kept just shy of threshold pursuant to the training plan.  Unfortunately, my overall management of the TT sucked and I forgot my TT helmet and didn't think to pre-treat my aerobars with carbon paste or chalk to keep them from slipping.  There was significant vibration on the road surface and by turnaround my right bar was loose and I had to literally hold it in the aero position.  In addition, I failed to pay proper attention to the start and allowed my start time to sail by while the Starters lollygagged, which cost me another 30 sec.  Bottom line, I finished 15/18.
The RR was a whole lot more fun.  I got in the breakaway the first time up the big hill and managed to stay close enough to the front for the next lap to get 1 KOM point the 2nd time up the hill.  I got gapped a little bit with half a dozen other guys just after the summit but we worked pretty well together and re-acquired the lead pack a few miles later.  For the final time up the hill to the finish line I turned the corner with Roy Quaid from Canada and commenced my final grind up the hill; hitting HR 160 at the 3km mark, and 164 at the line; definitely anaerobic.  While I was struggling just to survive, Roy rode away from me like I was standing still and just kept going like a machine, in due course passing everyone in our group to win the RR with a time of 1:51:04.  I finished 7/14 with a time of 1:52:30; a good result and a pretty well managed training ride.
The Crit was enlightening.  Since there were going to be about 60 guys in the combined 50/60 field and I wanted a position ON the start line I hung out on a side street shortcutting the course while the previous race finished.  My plan was to insert myself at the front of the riders as they came around the backside of the course during the warmup lap. After a while when no riders appeared I began to wonder what was going on and I went back to the other end of the block where I could see the start line and the last riders in my group were just disappearing around the first corner.  Oops – there was no warmup lap!  I had to cover half a block to get to the start line and I was at 28+mph when I crossed the start line.  I remained at 28+ and at the end of the first lap I had slightly LOST ground.  Yikes!  I still felt good so I hammered a 2nd lap at  27-28 and at the end of that lap I was even farther behind.  At that point I collapsed to 23 mph where I remained until 4 laps to go, when I got lapped by the leaders and pulled from the race.  I'm afraid you all will just have to take my word for this part since I noticed I'm not even on the finish list.  My ONLY redeeming action for this race was that I managed to pass two 50+ dropees before I got pulled.
TT's are the gordian knot of this sport.  If I go out hard, I'm basically walking at the end.  I literally have no idea.  At this point I'm embarrassed to put on my aero helmet, skinsuit, and disk.  I should just ride a trike.  HELP!!
As for Tuesday, awesome ride as always.  I collapsed on Gates, but the sprint was fun.  It was myself, Monster Mike and Jake the Snake, who had apparently applied his anti-wheelsucking cologne with Don's paint sprayer.  I could not breath.  It was ridiculous as he yelled at me to grab his wheel on the downhill after I dragged his sorry ass to the top.  I could barely hear him over my own wretching.  Anyway, we worked really hard and dropped the skinny guy in the strange kit who climbs like a cabroni.  I attacked those two chumps at the flats, but they went by me at the end and Monster destroyed Snake in a super smack down.
i Mike dusts off his cloak of invisibility to represent once again!
aggronauts,
Last weekend saw the Sonoran desert taken over once again for the
race/party/pain fest that is 24 hours in the old pueblo. After going
solo  last year, I was rejoined by my buddy John Carr. He flew in from
Nashville and we got the band (the kitty song) back together and raced
duo. What was a beautiful week weather wise took a turn on Saturday
with temperatures dropping and winds kicking up. 24 hr racing being
all about endurance, we went conservative setting up the tent low
ridder style and doubling up on rope and stakes. With gusts up to 40
mph and tents getting ripped up around us we settled in an equally
modest pace out on the course. In the early going we hung around 7th
or 8th with both John and I questioning whether we had the early
season fitness we had hoped for. As the day grew later clouds began to
role in. While I was resting between laps Beto and Paula stopped by.
Beto, seeming to channel a wise old ancestor, began a full on rain
dance. Sure enough the pitter patter of rain could be heard on the
tent. He left saying the worse the conditions the better, this is your
chance. The next couple laps we got soaked and hit our toughest patch,
but we hung on a little better than the teams between us and the
podium. By midnight the weather had broke, we leapfrogged into 5th,
and began to pour it on. By daybreak fourth, and by mid morning it was
about pride and seeing just how much time we could put into 5th. when
it was all said and done we had almost run down 3rd coming up just 11
minutes short after 24hrs. It was a thrill again to stand on the
podium again at an event as big as 24hop, and personally satisfying to
hang on when where down and off the pace. A huge thanks to everyone
who supported with gear and well wishes.
imike