U of A Crit
Eljet wins!  Once again, an Aggressor in a sheep's kit racks up another win.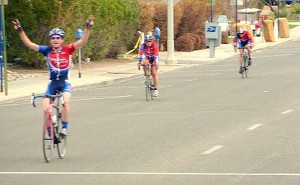 Leo the Lionhearted:  I went out for the 40+, no warmup due to poor planning and yardwork, and rode hard on my dura ace tubies until two RPM guys in front of me popped on the downhill into the wind as Paul made the winning move.  I couldn't overcome the instant 50 foot gap and got whistled off.
I then went to the cat 3 and kept the DA's rolling.  I went better, but got locked in at the back, unwilling to expend the erg's to get to the front.  Just sat in and watched the crashes at the end as two guys rolled tubies off their rims.  Elliot won!!!!!
Mike: Good job guys! I got in the top ten (9th I think) in the 30+ race, and it was tough. Stacked field.
Rick: When it became clear part way thru lap 1 that nobody in our group particularly wanted to pull, I made the strategic decision that I would keep my HR no more than a few beats below redline for the 30 min period, and if that meant pulling, then I would pull.  Fellow Aggressor Doug Perry did provide a couple of laps of much appreciated rest part way thru the race.  No one else in our group pulled at all.  Toward the end only a pair of Summit-Velo riders were with us and one of them faded with about 3-4 laps to go.  On the final lap, Doug came around me a couple of turns before the finish with the remaining Summit-Velo rider on his wheel and the Summit-Velo rider then came around Doug on the last turn and (barely) outsprinted him to the finish (damn!).  I really had no sprint to speak of and crossed the finish perhaps 30 ft behind them.   So, in the end Aggress had 2 riders on the podium and I managed to collect a $25 prime at some point in the middle of the race.
During the post race discussion, Doug and I agreed that we should have tried a 2-man breakaway with 4-5 laps to go, especially given that only the Summit-Velo pair of riders was hanging with us at that point.  This was my first race actually working at all with a Team mate and I kind of think I learned a thing or two and we should do better the next time we have an opportunity.  
Results
Comments