Aggressors:
This inaugural event was my only significant objective for 2016 so I did set up and try to follow a training regimen to prepare for it.  Since the race was to be 20km up Pikes Peak with a start line at 9,380 ft and a finish line at 14,110 ft I included altitude acclimation as an integral part of my preparation.  I researched several training blogs and concluded that about one month at altitude was the optimum acclimation period.  If one cannot do that, little or no time at altitude is the next best approach.  Most of my training effort was put in between 4 weeks and 1 week before the event.  I took 2 days off shortly before the event and did a wake-up ride with a few pushes the afternoon before the event.
Weather for this event was forecast to be lousy until the afternoon before at which time the forecast changed to clear and sunny.  In the end, it was clear, sunny, calm and cold for the race.
The format was a staged mass start in waves.  My scoring group comprised about a dozen riders (MM70+) and left the line at 0703.  The first mile or so was deceptively flat and all of us enjoyed a bit of respite before the grind.  The grade then ramped up to about 10% and was relentless with very little easing.  Our peloton quickly fractured and soon Durward Higgins and I were alone off the front.  I have previously raced against Durward last October at the Huntsman World Senior Games where he beat me in 4 of 4 events.  Halfway up he bumped the pace 1 km/hr which I could not match, although I felt that I was performing well, and slowly but surely rode away from me.  I continued to be functional to the summit and was actually able to increase my own pace slightly the last 3 km.  I am admittedly a bit disappointed with my 2nd place finish, yet I feel that I performed about as well as I could, free of strategic or tactical errors, and without any equipment issues during the race.  Durward is simply stronger than I.  After summiting,  I took some time to enjoy the views, which I reckon were 50+ miles in any direction; truly grand. 
Given that this was a US National event,  my feelings about how the event was run are ambivalent.  The choice of venue was a profoundly wonderful challenge and would test the mettle of virtually any rider.  However, the extreme altitude should favor those who are already living at altitude.  Yet, having said that, it did not turn out that way for my group; 3 of the top 5 are living at low altitude.  Of course, for other groups it may well have been different.  Surprisingly, there were mistakes in posting of results;  I was initially not even listed in the results, and I know that other riders also had issues.  Fortunately, I had a "receipt" which I had obtained at the finish line listing my exact finish time and my finish position among those who had finished in my group; a neat feature, I thought.  Perhaps the most frustrating issue was the limited timing window; cutoff shortly after 0900 with riders starting between 0630 and a bit after 0730.  The road was opened to the public at 0900 and a steady stream of cars was nearing the summit by 0915, intimidating a couple of the racers in my group into giving up and turning around to avoid the press of vehicles in close proximity.  The Pikes Peak hgwy is city owned and I speculate USAC was simply unable to negotiate a reasonable closure window with the city.  As usual it was likely about the money.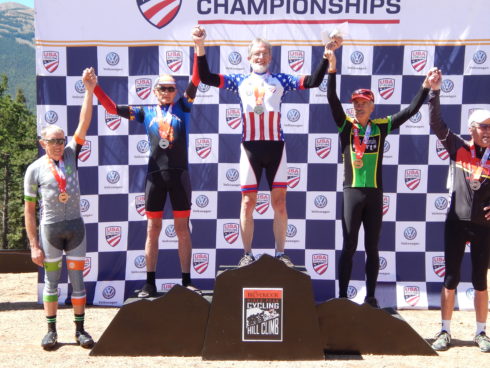 Rick E.
—–
I finished mid pack this weekend in my Men's 40+ category. Gus, Kelly, and I showed up with plenty of time we thought. However after a long wait at the toll gate Gus and Kelly had to hurry to make their event. 
I thought I had plenty of time but needed to use the bathroom. A half hour later I headed out for my 2 miles of warm up. At 9000+ft I was dizzy just standing there. I had about 30 guys in my group. 
First thing I noticed was they all had compact cranks and a 11-32 on the back. Second thing was these were some hard looking dudes. 
As the race started I felt good. However within 2.5 miles I got dropped when the group surged. Ive never felt anything like it. My muscles didn't hurt, no burn at all but I just couldn't go any faster. 
I had to just mantain my pace and ride my race. Maybe a mile or two later there were people already on the side of the road. One of them a very fit young guy throwing up.
Ok this race is very different from any thing I ever done.
The great thing was I was starting to feel stronger every mile and was passing one competitor after another till the finish of the race. 
I believe my fitness was good but I just wasn't quite acclimated properly. The winner beat me by 13 minutes. That's a long time for a 12.5 mile race. My finishing time was 1 hour 28 minutes. The pro winners time was 1 hr 10 minutes. 
I'll let the other teammates tell their stories. I will say this, anyone who finished this event is a champion in my books. Rick is my Hero at this event and I really look forward to hearing his story. 
I want to thank everyone who encouraged me to keep training, lent me equipment or just their ear when I needed it. 
I have to really thank Kelly O'Connor's family for hosting us in their wonderful cabin in the woods.