TBC "The weekend in Hell!" Doug Perry

Looking Aggressive!
Kelly: I'm glad I did it because you all were right… the experience and what I've learned was well worth it.
Time trial – I started my tt feeling pretty good but ridiculously nervous. Of course I did the thing I was instructed NOT to do, which was to put too much effort into the first section of the course. When I realized my mistake I tried to back off but my legs already felt the burn. My time, 10:59 was a little slower than my best on practice runs. I was 24 out of 29.
Road race – I managed to hold onto the main field for a little more than half the race but couldn't close the gap that was created when we surged past the women's cat 3. I eventually teamed up with 5 other women also straggling behind. We came close to bridging the gap just before the right turn onto La Canada but just missed it as they made the turn south and slipped away again. The six of us continued to work to the finish.  I was in 16th Saturday night.
Circuit race – the first two laps I misjudged my gearing coming out of the turn onto Greasewood and had to work too hard mashing up that hill and against the wind to catch up. The third lap I over compensated with too easy of a gear and spun out. This, combined with the sprint for the bonus was my downfall. I lost the main field and finished out my two laps with another woman from 2 Wheel Jones. In the end she and I sprinted for the finish and I barely beat her across the line. My victory for the day! I ended up placing 20th.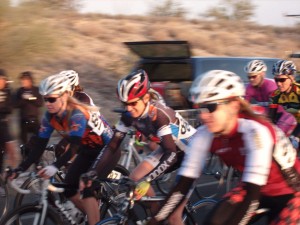 Doug 'Wheelman' Perry:
TT: On my way back to the tent to start my 35 minute warm-up, my rear disc wheel was wobbling … not good. Jim and Gus looked it over and it was determined that the hub had self-destructed and couldn't be used. What to do now … I waited for Liz, to hopefully return to the tent, so I could grab her wheel. I had about a ten minute warm-up and headed for the start. I was focused, and tried to block out the wheel disappoint. I ended up finishing 46 seconds faster than last year (9:24 vs. 10:10) … a little off my best practice efforts of about 9:10. 15th out of 23.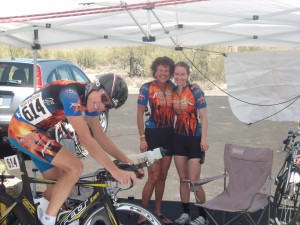 For the road race I was pumped! As we started out, I remembered to stay near the front and was actually chasing down some of the early break attempts … feeling good and strong. Around mile seven, twenty short minutes into the ride, I hit a pothole near the double yellow lines. I rode for another mile noticing my front was a little wobbly.  I pulled over and waited for the wheel truck, got a wheel and started to chase. After 35 miles of soloing, chasing and catching no one, I finally finish. The result … lost about ten minutes and my Zipp 303 rim was cracked. Ugh! 23rd and dead last in GC.
Circuit race: what did I have to lose? During the second of our seven laps, a group of ten broke off and we never saw them again (many of the group were 55!). I was in the chase group and we worked together and for the first time ever, I took off several times (even though I was dead tired from my solo effort yesterday) and made the group catch me … fun! On the last lap, I was gapped on the last climb by several of the guys, but began to catch up on the Anklam downhill and Speedway flats. As we turned onto Greasewood, I followed Richard Duncan to the 200 meter mark and put the hammer down and went around him and beat him by four seconds. Result 16th place. Moved out of the bottom on GC and got to 21st.
Rick: 
TT:  Stuck to my plan, easy on the downhill, just below LT for the intermediate uphill, over LT for the final uphill pitch.  Finished 4/13.
RR:  Felt good physically but had a serious brainfart.  It would seem Gary DeVoss and his buddy from CA went off the front of the 55+ combined peloton uncontested a few km before the finish and I had no clue.  Incredible!!  I was riding Fritz Tomasello's wheel at about position 10 in the  combined peleton planning to follow him to the line and then out sprint him across the line.  He didn't notice DeVoss & Co off the front either. In the end he beat me over the line and we were initially posted as 1 & 2 for the 65+RR.  Next morning we are re-posted as 3 & 4.  What?  I can still hardly believe it. 
CR:  Went into this thinking I was 3rd in GC and just needed to hang unless someone got off the front.  No one did.  I finished 5th in the final sprint with Gary DeVoss just behind in 6th so I figured 3rd in gc was in the bag and nothing was going to change within the top 3.  I do recall a naggy little feeling in the back of my mind when I noticed that Gary DeVoss was wearing the yellow jersey; based on what I had seen on the Internet, Fritz Tomasello should have been wearing it……..Hmmmmm.
Didn't much care for being consigned to the dirt next to the podium; oh well, there's always next year…right?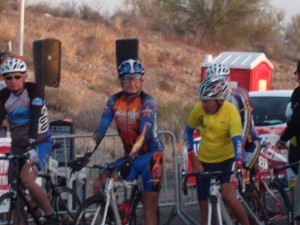 Leo:  TT: I posted an 8:42, which was way faster than I was in training, and I was happy.  I could have gone 10 s faster.  I was 56 back, in 34th place.
RR: The race was sort of hard.  TJ T. was on the front punishing the field for miles and miles.  The group broke up a little on the second climb, after a fairly easy first lap.  I did some pulling, but no attacks.  I lost Mike and Jeremy on the second climb.  We turned onto the second trip to the rollers, and it got brutal for about 30 minutes.  TJ pulled the whole time, damaging the yellow jersey severely.
We hit the final climb, and I felt fluid and comfortable.  We sprinted into a headwind, and I was not tired, but did not assert myself, still going by several people at the line, which is rare for me, especially since I started in cat 3.  The initial results put me in 11th, moving to 29th place, fining me $20 for not signing in.  Later they put me at 17th (pack finish), and I stayed in 29th.
CR: the wind was starting to swirl.  It dawned on me on the third lap that we had a cross wind from the Southwest, so that we fought it on Anklam to the turn into the climbs, and then on Speedway heading to Greasewood, hitting a headwind on Greasewood.
The third lap sprint was not hard, but the cross wind on the 4th lap started to hurt.  I had to pass several guys who were cracking ON THE DOWNHILL, and nearly did so myself.  I don't know how, but I climbed with the group past the feedzone and survived.  The fifth lap was worse, but not quite so hot, and probably 5 more guys were gone.  As we turned onto Greasewood on 5, three guys attacked, and stayed away.  The leader was cooked. TJ kept telling him to get on the front, which he did several times.  If you want to win, you better work.  We followed the attack for a lap, keeping a one minute gap.  Sixth lap done, three more guys got off the front on the downhill, and we could not get them back, and no one really wanted to help the yellow jersey.
We turned onto the last climb on Greasewood into gale force winds.  Another slow-mo sprint, which I came 25th, pack time behind six attackers, moving up to 22nd GC.
TJ took the yellow.  Hard core racing by simply outworking the leader with style and grit.
Jeremy:  Ok, it might have looked like I didn't perform well at TBC.  However, in fact I did my best.  I embraced the pain and rode pretty well solo for 4 or 5 minutes of the race.  On both Saturday and Sunday I picked up and was picked up respectively which account for the other 10 minutes.  For the most part I didn't want to quit (maybe when the wind picked up and every time I passed the start finish on Sunday).   I raced to have fun and prove to myself that I can still get out there a ride with these guys at least 95% of the time.  
Liz 'Aggressette' Perry: 
Time Trial – Like Doug, I had faithfully followed the Jimmy program and had practiced the TT route many, many times.  My biggest fear was going off the ramp!  Jimmy said to get there a bit early and see if I could do a trial run off the ramp.  I asked a random woman cyclist who was standing near the ramp, if she would hold me, so I could try the ramp.  She agreed and I went off with no problems.  I worked really hard and finished with a 11:17.
Road Race – Despite getting up at 4:00a.m. and leaving the house on time, Doug and I found ourselves really rushed.  I never even had time to warm up, which was crucial, because it was stinkin' cold!  The Masters Women 45+, 55+, 65+, all started together and I started strong.   After about three miles, three of us got dropped and started to work together.  Then we lost another girl, so I was working with just one other, for the entire first lap of the race.  After I crossed the railroad tracks on the second lap, my calves started cramping; tried to stretch them out, but when I stood up, my quads started cramping as well.  I got dropped   😥   So, for about 19 miles, I rode alone, in severe pain.  I did finish, but it was tough.
Circuit Race – Again, another morning up early, but the time flew again and not nearly enough warm-up time.  This time, I was dropped immediately from the main field and rode the entire race alone!  I thought about waiting for two women that I knew were behind me, but I couldn't even see them and just wanted to finish without crashing. Ended up getting 3rd in the GC  😀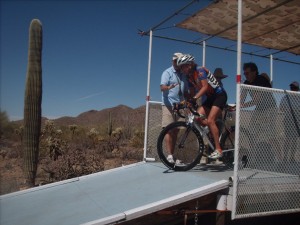 Comments