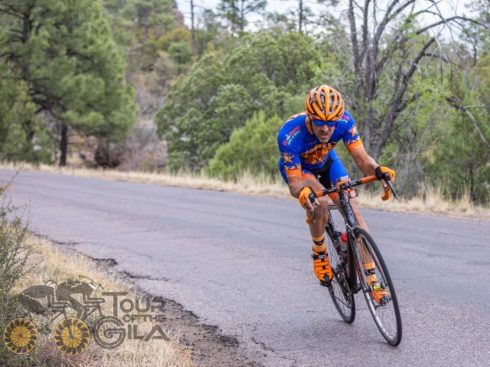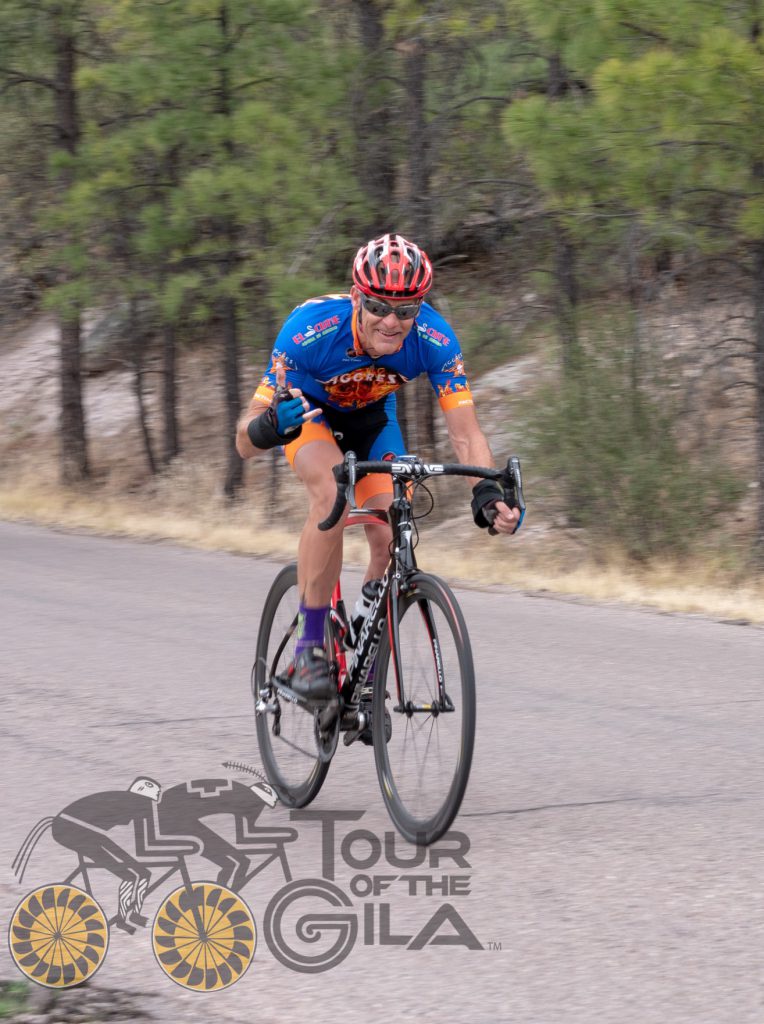 2018 Tour of the Gila This year a few Aggress members drove out to Silver City New Mexico to check out the Tour of the Gila. Rich Horn: 1st place Inner Loop Road Race. Rich Horn: 2nd place Gila Monster Road Race.
-Rich
First off, I think Gene deserves teammate of the year.  He let Tim and I stay at his house, even fed us, and then drove us the thousands of miles around central Arizona to the various sites … all after injuring his calf in the TT.  He cramped up and had some micro-tears that developed into a full blown calf tear first trip up the hill on the road race.  Despite all that, he braved the wind and cold, twice, to give Tim a bottle in his race which was about 3 hours after we were finished!
I'll let Tim tell his story, of course, but I'll mention what he's going to leave out, probably.  He was in a VERY strong Cat 3 group … there were some absolute studs there doing their last Cat 3 races before moving up to Cat 2.  I follow several of them on Instagram and Strava…that field was LOADED!
As for me, I finished 2nd in the GC for men's cat 4.  I'm super happy with that, especially since I never really expected to do a lot of winning this year.  I thought NEXT year would be my "come-back" tour.  (That's a little sarcasm because I've only raced half of one season before getting hurt.)
In the TT I had a very, very bad day.  It was good enough for second on the day, but I felt I didn't deserve it  … silly, but the amount of power I put on that TT was what I usually do for tempo intervals.  But, I was pretty sick, and I wasn't slow due to lack of effort!
The wind on the TT was pretty strong, a tail cross on the way out, which is slightly uphill, and a head cross on the way back.  I had a 90mm front wheel on and I got pushed around a lot!  But, the wheel never got twisted, I just got moved side to side, sometimes abruptly.
The road race figured to be a real shit-show.  It was windy, blowing all different directions, very wet and there were parts of the course with some bad road, huge rumble strips and a cattle guard right after a turn.  But, as it turned out, the only people on the day that crashed were juniors!  I felt better than I did on the TT, but still was just dying to make it up the hill in the group.   I never really figured into the make-up of the race other than to try and bridge to a break away, but being 2nd, I wasn't allowed any leash.  I came in 8th place on the day.
Before the road race both Stephen Pendone and Tom Danielson reached out to me with encouragement and advice.  It wasn't advice I was able to execute in the road race, but I felt stronger still on day 3.  I wasn't sore and had good legs.  The advice was, in TD's words, "Make the race a fucking blood bath."  It was interesting because during the crit, someone else was doing just that for the first few laps and I was hurting.  I moved up and moved up and it got easier.  I kept moving up until the first prime lap when I attacked, got $50 and got away.  One dude bridged and then another, but after I think 2 or maybe 3 laps, we got reeled in.  I just stayed well positioned from them on, until lap 3 when there was another prime.  I just moved up patiently and then stood on the pedals just enough to get a second prime!  
On the last part of the second to last lap riders STOPPED holding their lines and people started getting really twitchy.  All I needed to do to stay 2nd in GC was finish, so I just went on the front and held the pace high until the back stretch when some people started attacking.  I just surfed wheels in and came in mid-pack, same time as the winners.    😀 
I learned exactly what Stephen and Tom were talking about.  When you're dictating the pace, even when you're not attacking anymore, people look at you and treat you differently.  It gets way easier when they're a little afraid of you.  Next time I'll see if I can use that to get a W.
-Philip