2015 AZ Crit Champion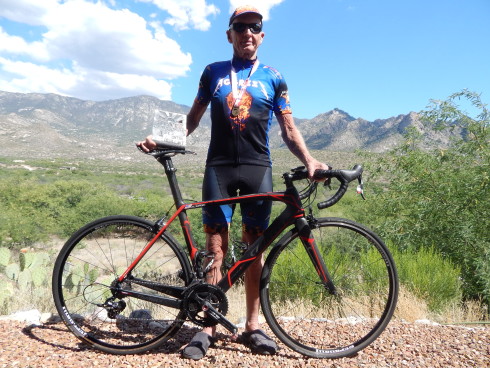 Aggressors:
Sometimes things just work out without any rhyme or reason.  The 2015 AZ Crit was one of those times.  I arrived at the venue an hr before my race.  The course was surprisingly park-like, given the downtown Mesa location and there was only one turn (a 180) that required close attention.  All the masters men 50+ went off together so it was a big group.  However, the other 70-74 guys seemingly hung out toward the back of the group and just before the start Jack Dillon rolled up next to may and said the 70+ guys were going to hang back a few seconds to stay clear of the 50+ melee.  I was on the front with Lou Wageman and did not really want to do that, but I agreed and moved to the side to be clear of the horde.  The 70+ mini-group was lapped about half way thru the race and I, Jack Dillon, and Michael Patterson latched on as they went by.  A prem lap followed and the group as a whole accelerated significantly toward the end of the lap and I was outputting near 100% to stay buried in the group.  With one lap to go I did look back expecting to see Jack on my wheel, but he was not there, nor was Michael Patterson or anyone else from the 70+ group.  I rode the last lap with Reggie Dowdall and he did sprint at the finish to take his group.  I rolled across behind him to take my group by attrition; all my competitors had been ejected and were absent.  How easy is that?
The event seemed very well run.  Boris DeCourt had the scoring completed half an hr after the race and the Promoter had the award ceremony completed an hr after the finish.  Impressive.
Comments