Southern Arizona Omnium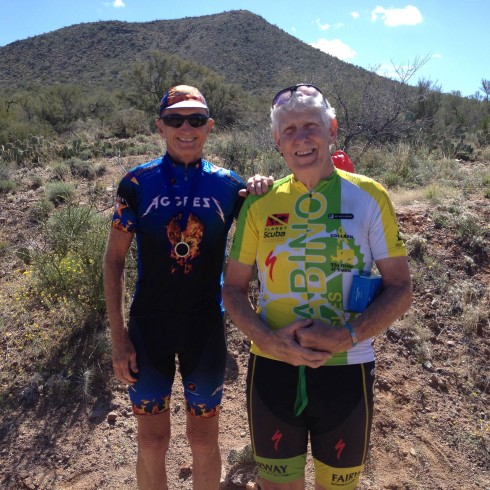 Aggressors:
The Omnium was comprised of the Flapjack Flats TT and the Colossal Cave RR.
The TT was windy but the wind direction was more or less straight down the course axis so xwind issues were minimal.  My best TT ever on this course; avg 32km/hr out and 52km/hr back.  Good for 2nd, 20 sec behind Jack Dillon.  Has to be the shaved legs!
RR was typical good AZ weather, and was 5 laps around the CC course.  My combined race field was 55/60/65/70/75 and pretty good sized, around 30 riders.  The hill was hammered at the end of lap1, and then, as we crossed the finish line, accelerated dramatically.  I could not quite keep the pace with the 8 leaders ahead of me and was alone until the C. Loma Alta turn, when the pack caught me.  As we turned onto OST I could see the breakaway about 200m ahead and I tried to get a rotating paceline going since I thought Jack Dillon was in the breakaway.  My words fell on deaf ears; no one else seemed to care.  At this point I took a good look at the pack behind me and realized that Jack Dillon was actually sitting in toward the rear of my pack, and was not in the breakaway.  Henceforth, my attention was on my group since my race was still up for grabs.  I tried to make sure the pace up the little hill at the end of each lap stayed reasonably intense and on lap 5 my plan was to bump the intensity while still on OST at the short, sharp, pitch-up just before the turn onto Pistol Hill rd.  One of the 55+ riders and one of the 60+ seemed to have the same thought so the pack got worked a bit going into the final climb.  At the 200m mark I was able to actually bump the intensity a bit more and fracture what was left of the pack behind me for the win, which also earned me 1st for the Omnium. 
I do need to develop just a bit more power so I can stop getting dropped by younger riders going over the top of hill climbs into descents.
The TT
on Saturday
was absolutely brutal for me. Something about being 135 pounds on a day when there was that much head/crosswind that just doesn't mix. Anyway I came up with 7th out of 10. On to the road race.
Sunday
morning felt much better. Slight breeze out of the southeast. Same as last year, the race was fast right off the line, PR'd the Strava segment from the start all the way to the OST turn at nearly 29mph average. The race was pretty tame, and on the last lap I felt my legs so go just past the feed zone. I attacked and started to pull away but was met with a face full of wind. I dropped back into the group and managed to pull off 10th of 25. Getting a top 10 sounded much better than 7th of 10 so I felt good about that. One thing about this race was that even though I didn't feel like I was able to put out my max efforts, I felt that my confidence in the peloton was much better than what it has been. Up next, TBC (hopefully as a 4) then South Mountain TT (which I'm really looking forward to).
B
Congratulations to everybody that raced this weekend especially those who muscled through the high winds for the time trial. Huge congratulations to Rick for getting first place in a road race and finally taking down that damn Dillon.
My road race went very differently than all of yours, I showed up and I felt great I was very well rested I was hydrated I was very well fed and relaxed and ready to just hammer 6 hard laps for Shane. that didn't happen the first lap with a typical cats four road race where it was pretty darn slow with a bunch of fake attacks and got sucked in immediately. But because the field was so aggressive and there were some fast people in there I made sure that I was always in the top 5 with Steve Pedone and Kyle van had a gram because those were the two guys to really watch out for. I wanted to make sure that whatever they did Shane and I did. The second lap was fast and it was quite aggressive the attacks went out for a longer time and I made sure I was in all of them, hoping that Shane was close by to follow. Going into the third lap I started to breathe really hard and noticing that my heart rate never went below 191 beats per minute and I started to cramp in my legs and my back. cramping is something I normally don't do so I knew that something else was up. I fell back into the crowd I try to shake my legs off but it was just a little bit too fast for me to shake off cramps and then try to get back in there. that was the end of my race big Fat DNF for Gustavo. But I always have a good time just by going to an event and there's always something to learn.
TBC is next and I'm looking forward to laying everything out and hopes to get Big Mike podium.
GRA
It was an early start for me as I rode out from my house, leaving at about
4:50
. I had a pleasant cruise across town on Speedway, free of traffic, with NPR in the earbuds. I got to the race with about twenty minutes to start time feeling surprisingly comfortable and relaxed on the bike.
Brandon and I discussed a few strategy ideas with me taking an aggressive approach to the first lap, but as we rolled through the lap it became very apparent to me that we'd have a hard time getting a clean break for two reasons: a strong field, quite stronger than I remember from last year, and a firm headwind coming up OST. I cycled through the front and got a feel for some of the riders, but through the next couple laps I had a hard time staying focused from the lack of excitement. Yes, the pace was pretty high, but it felt like Groundhogs Day as every one of the riders I had 'profiled' made the same fake attack at the same time every lap. After awhile I felt like I was playing Texas Hold 'em….everyone had their idiosyncrasies to exploit despite their feigned steely-eyed expressions.
Then at about the fourth (of five) lap I realized my heart rate was in zone 1 and I felt as fresh as ever. A thought occurred to me: see how long you can keep your HR that low and wait…just wait.
Coming up OST for the last time it was unusually tame….It seemed to me that the 17 or so of us in the front pack knew that each other were all capable of pulling off at any moment. At around 500k from the hill Brandon went with me fully surrounded in the bunch, and I honestly thought he was going to get away. The wind proved a stronger adversary, and with enough time for a prayer we hit the hill. As it seems to happen the field spread thin quickly. For what seemed like an eternity I pushed on keeping pace with six or so riders ahead of me. I thought I was slipping and would be passed quickly as I was not quite grinding, but the pain in my legs was immense. Then I looked up, saw the line, and realized a couple riders in front of me were slipping back. Ahead of them was a place on the podium. I put all I could into a saddle sprint. I ended up 3rd with a box of trefoil Girl Scout cookies. My favorite.
-J
Day 1 TT: Driving up to the TT course on Saturday was a route I'd taken many times last year, so this time even with the light southerly breeze gently flowing across one of the more beautiful parts of southern Arizona ;), I was relaxed, knew what had to be done and felt as if I was in my element. I'm finding you never get completely comfortable riding TT's, but somehow I look forward to the event, just you, the bike, and the elements. With a little warmup on the trainer, then a spin on the road I was careful to keep track of time and headed to the start line. Once off and heading into the wind I focused on keep cadence high and not grinding the pedals too much into the wind. I caught my 30 second man before the turn around, managed to not crash (always a thought that goes through my mind). Now back inbound time to turn the big gear, get to the 11 and keep it there. On the way back in I caught several more of my Cat 4 group and felt good with the effort 6th out of 12 not bad. I find it interesting to geek out in the numbers. For those that care:
| | | | |
| --- | --- | --- | --- |
| Outbound | 97 rpm | 312 watts | 20.1 mph |
| | | | |
| --- | --- | --- | --- |
| Inbound | 93 Rpm | 321 Watts | 31.2 Mph |
Day 2 RR: I'm learning things don't often go as planned. In the weeks leading up to the race it was shaping up to be Gus and Big Mike beating up on the competition to deliver me as close as possible to the front of the group. That way I could showcase my Canvendish-esque sprint (cough, cough). Well, with Mike nursing an injury it was up to Gus to try and establish the blue-train of Aggress dominance in the Cat 4 peleton. The first couple laps were tentative ones for me, after years of solo riding the TT is my comfort zone, so I was keeping myself to the edges of the group, trying to find my way. Occasionally thoughts of "Do I even belong in this group?" would pass through my head. The first couple of laps seemed tame with several guys trying to go off the front, it helped to know who to mark. If the marked guys didn't jump then I figured the race wasn't going anywhere. I just kept my eyes on them and sat in. At the end of the second lap we passed the Cat 3 group and once our peleton reformed I looked around to find Gus and suddenly felt a little lonely. Not sure what happened to him I figured I would keep marking the Tri-Sports guys as there was 3 or 4 of them trying to control things. As we rolled through the next lap and a half as the group started to thin out, I felt more comfortable and more confident in riding the bike into narrow spaces holding my ground when needed. Then during the middle of the 4th lap as we turned onto Old Spanish Trail I'm not sure what happened, lapse in thinking, surge in the group, probably both at the same time and I was in a place we've all been from time-to-time, watching the race head up the road without you. Next the wheel support truck passes you, then other riders who are hating life much more than yourself as you fight past them to try and regain the group. Well is was off on a fight-back that took all of OST and up Pistol Hill. Keeping the power up and always keeping the group in sight, about a quarter mile ahead of me. Sloooowwwly I started making ground on the climb, then over the top, then ground the biggest gear I could on the downhill portion, waved at Gus and Jonathan on my way by the cars and rejoined by the cattle gaurd as we headed into the 5th lap. Sat in for the next lap eating and drinking for what I knew would be an increase in pace during the final lap. During the last part of the final lap, it was facinating to watch the surges and reactions within the group. Jonathan used the card playing analogy and, thinking back, that's what this was, who was gonna lay down an attack that was gonna stick, did anyone have the legs to make it up that hill by themselves. It's a learning process, and I learned a ton just by watching those last couple miles. By nature I am not one to gamble or make a bold move, so here I was in reactionary mode, basically a spectator…. this time. As the group turned up the hill I was happy to make it with the bunch, passing some, but earlier in the day Cav used all the power I was trying to channel for my sprint to the line, I finished finished 14th out of 30 (I think), BUT never mind the placing, I learned so many things in those last 4 miles, next time I will be willing and ready to get out on that dance floor and give it a whirl, let's dance!
-SPC
Comments