VOS 2015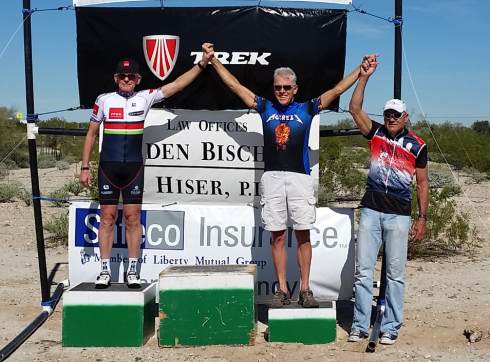 Aggressors:
The weather was nice and the turnout was around 740, reversing a disquieting trend down for the last several years.  This years field even included a dozen or so hand cyclists on recumbents.
The only significant change I implemented this year was to shave my legs for the TT (Yeah – I read the Specialized report and watched the video).  I really didn't completely believe the report but since the weather conditions were about the same as last year and I ended up posting my best TT ever I concede there may be something to it.  I averaged 40.1km/h (24.92mph) vs my previous best at 23.7mph, to finish 4th, just behind Doug.
The RR should have been my best event and indeed I felt good climbing the hill all 3 laps.  Unfortunately, on lap 2, just as we were approaching the finish line at the top of the hill, several of the  55+ guys attacked and 3 of my competitors that I comfortably followed up the hill to save a few matches for lap 3 took off violently to go with them.  I could not match the acceleration and was soon gapped by 50m.  As I got up to speed and down to business I held the gap constant on the gentle downhill for a few minutes but eventually had to ease off and watch them go.  Shortly thereafter, I was joined by Ken Louder, who had been gapped about the same time I was.  We did work together and eventually picked up a 55+ who worked with us and keep the Leaders in sight but could not close the gap.  On the last hill climb, I did close the gap some, dropping Ken and the 55+ guy in the process to finish 4th.  In retrospect, of course, I can speculate that if I had moved to the front of the peloton for the climb instead of hiding in the middle to conserve energy, I might have been able to drift back a bit but still hang on as they accelerated at the top of the hill.
The Crit was mute for me as I was too many seconds back to catch anyone.  I mostly just tried to stay on Phil Holman's wheel since he seemed to be pretty smooth.  For the sprint to the line, I stayed with Phil most of the way but he did start to gap me some about 100m out, and then 2 of my other competitors (Roy Quade & Robert Tompkins) managed to just nip me at the line, so once again, I was relegated to 4th.  Dang!!
In the end, I guess I was satisfied, but not thrilled, with my performance.  The busted RR was a little disappointing.
The 2015
VOS
was a mixed bag for me …
Friday's time trial was my primary focus for doing well and by most measures, exceeded my expectations. I had my PR for average speed, in any TT that I have done, finishing with a time of 34:00 and a 25.4mph average and knocking
1:35
off my time from last year. My average power was 262 watts and I kept my power tightly within the ranges that I had set prior to the race. However, I did fall to third place this year, from my second place finish last year … but, the first two slots were taken by Phil Holman and Ken Louder … both top five finishers in nationals last year in the TT for the M60+ and M65+ respectively. Very tough competition! Last year my goal was to break 30 minutes in the 20K TT and I did a 29:48 in the AZ State Champs. This year my goal is to break 29 minutes, and calculating a 25.4mph average for a 20K would give a 29:17 … I think my goal is within reach!
Saturday's RR was a different story! I got dropped the first time up the climb and worked like a dog to catch the leaders at the base of the approach to the climb, for the second time. Of course, working so hard didn't help my chances in holding onto the leaders up the climb and I got dropped again! This time, I could not catch back on. I could see Rick and two others just a few hundred meters ahead, after we crossed the cattle crossing guard, but could not close the gap. I struggled hard, but to no avail and fell out of podium contention … ugh! I elected to not make the four hour round trip to do the 30 minute crit on Sunday. Of course, many of you know that I had promised Liz that
VOS
would be my only crit from now on, and I would only do it, if I would get on the podium. She was, of course, happy with my decision. Pushing me around in a wheel chair for several months twice in the last few years hasn't been much fun and we don't need a repeat of that!
As I analyzed my performance in the RR, I recognized that my focus on the TT, and training for that, had compromised my performance. I had developed good power for 20-30 minute efforts, but lacked what was needed for the 5-10 minute efforts. As we know, that is what is needed to get up the hill at
VOS
. My power going up the
VOS
hill this year was about 20-30 watts less than what I was able to produce in last year's better performance. Lesson learned! Don't get too focused on just one event to the exclusion of developing what is needed to perform all around!
Doug P.
This weekend was an amazingly fun suffer fest that I have missed for a long time. Wish there were more three day races in the area and I had no job. 
TT
This was my first time riding this TT course and I figured 14.2 miles whatever. Go hard! That's TTing right. As I warmed up and made sure not to be such a socialite I noticed that the American flag was blowing in all directions and at about 12+mph. My plan… go hard. I went hard and finished 13th of 51. 
As most racers do when asked how did they did,  you got to go through an entire inventory of things that went wrong. Me I just didn't train. I am lucky to have all the top notch equipment and sunny days but I chose to rely on a lifetime cycling base and just maintain fitness. Lucky 13. 
RR
Mike and I had a plan. And that was to ride in the front 10-15 riders and shut down any attack that look like it could get away. Me riding his wheel and occasionally calling out instructions.  It was an interesting first lap as most CAT 4 first laps are SLOW. But as we approached the climb the pace picked up very quickly. I had to fight to keep Mikes wheel as everyone wanted that draft but you cant move me if I don't want to be moved. I bump bars and most inexperienced riders freak out and disappear to the back. First lap was very uneventful. 
    Lap two things started to happen, solo breaks three man breaks and heavy chasing.  Poor ol Steve Padone who was in the leaders jersey had no one working with him had to counter EVERY attack. Good get tired dude. As we approached the climb for the second time there must have been half a dozen small attacks that were immediately shut down. We approached the top and a explosion caught me off guard and I lost Ciasca's wheel and I had a great time chasing on the long decent with a group of 7 that I immediately organized a pace line again calling out instructions for rotation. This took about five miles of full gas chasing. We caught on and I got next to Mike and said "dude I was dropped" and He replied NO YOU DIDN'T YOUR RIGHT HERE" Done! I got his point. That was some Lute Olson training right there. 
    Headed into the third lap the intensity was building and the pace reminded me of a shoot out. We rounded the last turn and it was definitely faster than the previous laps and to hear a blowing tire in the inside lane at speed was very unnerving as that can take out the whole front of the pack . I made it very clear to Ciasca to move to the outside going through these turns and accelerate hard to avoid this kind of shit and sure enough we were wide into the turn and when we heard that tubular BOOM……ATTACK! The last stretch to the finish. It was fast. This thinned out the field by more than half. I made the mistake of looking at my heart rate and it read 201bpm. Whatever, Go!  At this pace no one could hold as there was still more than two miles left and it died down and some of the dropese caught back on. Thank God because this old body needed a break. But one by one attack attack attack shit here we go again, I was looking for Mike as he was slightly behind me on my right and there were about five GC riders in front in their drops and going. BIG MIKE CIASCA  to the rescue comes up in front of me and say Here we go G…. GO GO GO. Well there is a problem here. 12.5 lbs bike makes no difference here. His go and every one else go is very different. He put down those sledge hammers that he calls legs down and if his chain doesn't snap then he LAUNCHES forward and FAST. Can you say GAP. Shit  I just got dropped by my lead out man. Five dudes immediately filled that space leaving me now sixth wheel. Well shit this could have worked if the three guys in front didn't burn all their matches and sit up leaving me to go around and really not have a chance of finishing in the group. So I watched muscles pop out of muscles pop out of muscles on Ciasca's Loco Motive Piston like legs as he looked like he was just going to ride EVERYONE off like they were a bunch of GABA riders. Up and over the hill they disappeared. That was BAD ASS! 
GO MIKE.
CRIT
 I went into this event thinking that a Black INC is probably not the best choice for a crit in  cat4's ONE BAD TURN AND 14k GONE. poof Black inc is now Black Powder. 
    The Crit was my favorite event as this is my worst discipline. First lap was fast right off the start and everyone was riding very aggressively which I really liked. It took me two laps to work myself in the top 10 riders and I just wanted to keep my eye on Padone as he is still in the leaders jersey and a great crit rider. I LOVED hitting those turns at full speed. But my skinny legs could never match the acceleration on both straits, the first with a crazy ass head wind. I was sucking wheels and tucking as low as possible an DRILLING the shit out of my bike only to get passed by all the CALI sprinter looking dudes. Whatever, I saw how they corner. Ascared as we mex say. So every lap in all the turns I just went BMX on all their asses and gained my position again only to then lose it on the straight away. Well this was EVERY lap. Gettin old dude. Wutcha gonna do. .
Four laps to go and I decided to get closer to Padone as that's what we planned because he didn't have anyone to work with him,  and all the other GC dudes that were drilling it up front,  I managed to get that lap in with them and not lose any position on the straight away. Cool three to go. I thought that I was to close to the front and I knew that they would try to work me to the front and do all the work but I'm smart and sneaky. I dropped back a few and just suffered a bit but some how got this amazing feeling that I was SUPERMAN. Either I was dying of a heart attack or I am SUPERMAN. Right when I realized that I was not dying there was a two man break and I went for it and caught on and passed Padone and saying to him lets go…but he didnt. We hit the series of turns after the start/finish line and I gaped them by ALLOT I hit the straight and NO ONE WAS THERE. I was in the front. HAHAHAHA. Later suckers. I got one lap in solo with  two dudes hot on my ass and the peloton chasing down like a pack of starved wolves foaming at the mouth. THAT was an amazing feeling, but I knew that this was going to last just one lap so I gave it EVERYTHING. I got swallowed up and was as happy as one could d be. last half lap SOLO. All by my self. 
My average speed was 26mph max speed 33mph and my average heart rate 184bpm. BAM! SUFFER FEST FO SHO.
Comments