Colossal Cave Road Race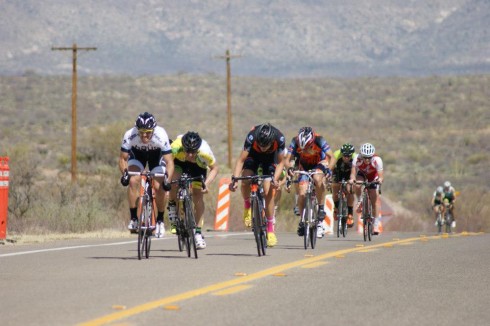 Here's a picture of the Cat-3 field just as the sprint was about to get serious, maybe a hundred meters out.  Aggress had some flames there!  If both lanes of the road were available to us, I may have been able to get us around Josh Pratt-Ferguson.  I think Mike M. was on my wheel?
   To tell you the truth, I was ill prepared to have to be involved in a sprint.  I really expected to get shelled early in the game and spend the afternoon on a solo training ride.  Did not mentally prepare and plan a proper lead out for Mike.  Also forgot to give it my all in the last hundred meters, just there for the joy ride.  I either needed to do more planning or needed another 400 yards of hill!  Though the field sprint was exciting, there were two guys who had broken away several laps earlier who took first and second.  I have bad eyesight and had assumed the field required them, some BikeHaus guys said they were chasing ghosts and shut down the chase with a lap and a half to go.  I think next time I'll work out the final plan with Mike when there is still a mile or so left.
– Rich Horn
---
Hmmmmm………I had a similar issue to Rich's with mental attitude for my final sprint in the RR.  There were 12 of us remaining at about 200m from the finish and because I knew Reg Dowdall was going to beat me for the 60+ win, I didn't bother to even consider who else was there  in my age sub-group.  Well, it turns out there were 4 others from my sub-group there and I hadn't bothered to memorize them, or even learn their kit.  As a result, I was already beaten, and finished dead last in the group of 12, 6th in my sub-group.  While I do feel one should focus on winning the race, when that isn't possible, or at least clearly not going to happen, I need to learn to accept a lesser tactical goal, and give it my all.  I did not do that in this race.
 – Rick E.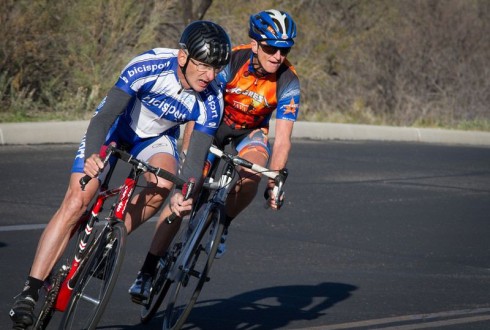 UNOFFICIAL CRIT RESULTS FOR AGGRESS:
Rick Ellwanger 3rd
Michel Lalonde 7th
Rich Horn 14th
Tim Scott 21st
Gus Amado 26th
Rick E.
Aggressors:
My wife drove the 55+ and Cat 3 wheel vehicle for CCO and was impressed by a performance from a new Aggressor that she was in a good position to observe………
"Just wanted to express congrats and admiration to new Aggressor Pete Michaud whose flames burned brightly yesterday. My wheel man for Cat 3 (sorry, but I hate that term "person") was Pam O'Casek. We had the pleasure of watching an heroic effort by Pete to re-acquire the peloton after being dropped about two miles from the Start/Finish, on the fourth lap (I think). Anyway, having seen other riders dropped we agreed that Pete was gone for good…no one else we'd seen had been able to re-acquire from that far back. Pete was far enough behind that it was prudent to pass but I kept an eye out for him in the side mirror and could see he clearly had NOT given up. And therein lies the tale. Pete passed our car before the S/F line and finally re-acquired the peloton on the way down the hill. Pretty impressive riding from our viewpoint. Also heard he had gone back to help Rich Horn and Mike M. (?) get back in earlier in the race. This is the sort of talent and attitude Aggress needs to remain vital, and it was impressive to observe his determination and ultimate success.
p.s. thanks Rich Horn for driving wheel support with me for the 45+ and sharing your racing knowledge
Judi Ellwanger
Comments