2012 El Tour de Tucson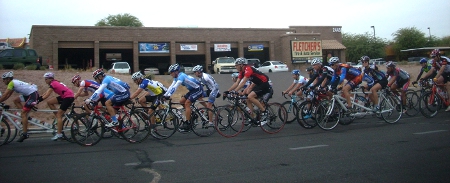 Ice water is the bomb; darkish 4$ michelob OK.  I had to bolt for Emily's soccer game after guzzling that (not) hoppy bev.
Nice ride today, the start was sort of nutso with all the medians on 4th (I think).  The river was tough.  I dismounted at the bottom and ran my a-s off to get to the top, with people falling off all around me.  I got to the top and hopped back on to see a group a half mile up the road.  I burned some matches with some other guys to get back on, and it seemed to solidify from there with some continued hard efforts in swirling wind.
We could see the break go over the over-pass, it looked like 15 people.  When we topped out on the overpass the crowd told us it was two minutes.
We went fast, but they went faster.
We were about 100 but people seemed to fall away on some of the hard sections to the second crossing, which was not too bad.  I rode to the bottom of the wash and jumped off, no need to risk falling off.  I got back on and had to work with a group again to regain a pack, which seemed to have a couple people off the front.
Some time in there I heard the break was at 8 minutes.  We recovered may 4-6 guys to the finish.
We got going again and went pretty easy up through Vistoso, finally regaining the people up the road.
The attacks started on Moore road, in which I participated, having given a hard/long pull to the turn.
We then descended, and I think Vistoso/Moore claimed some more victims as we seemed to shrink quite a bit to I-10.
A train nearly stopped us, but was past when we actually got there.
GST'rs Biaggi and Poblanski (who was also in the initial break briefly and in the long break from the second wash) rolled away as I sat at the back on the long curve after the frontage.
I knew it was dangerous, especially with Silverman in the pack.
No one responded meaningfully in the pack, but there were a few minor gestures to bridge, none successful.
There was odd blocking going on, with a Bike Religion guy pretending to pull, but only going 18 MPH.
Then I think a Landis rider somehow ended up with P and B, but Travis, who had popped out of the actual break seemed to actually pull for awhile.  After Rattlesnake I started to pull and fight with Silverman who nullified everything, with no response from anyone else except Johnny Cat a few times.
Paul Thomas was mixed tandem with his girlfriend, and he went by at one point acting like he was going to pull as well, but actually, for some reason, slowed us down to 17 mph as he was being monitored by the other tandem in our group (Ford/Biocca).  It rankled at the time that non-kit wearing people were riding tactically.  Seemed irrational and lame.
Silverman was suppressing the cheese (from the likes of me) in the pack, but only covered a few anemic rushes.  Any strong rush, which naturally proceeded from strong pulls from myself or Johnny (making it impossible for us to cover), he let go.
So, three guys including Justin Orkney in a typically genius move got away, this after an apparent octegenarian attacked and got away, followed by two really strong guys, all escaped in some great racing as we closed within  8 miles.
We then rode into the finish in a pack of about 70 people, with about 15 ahead of us.
Apparently the old guy closed the gap, as did the rest of the escapists (to Biaggi/Poblanski), but he crashed horribly into a cop motorcycle on 6th (I noticed something, and Fast confirmed).
I rolled in, no fan of bunch kicks.  Kurt told me 69th, my power tap told me 25.1 avs, 4:27, with an av power of 198.
I felt fine until I started playing soccer with my kids, then tired.
Sushi Garden (love that iced green tea).
-Leo
Comments