Whiskey Off Road
I was torn on racing the Whiskey this year because my heart was set on racing the Gila.  With a little peer pressure and some incentive, I was all in for the one of the best MTBiking events of the year. I had a couple of setbacks prior to the race, overcoming a sinus infection and then a pulled muscle in my back playing mashball with P and G,  less than a week out before go time.  With some Neproxin and visit to the Chiro, I was almost 100%. 
A quick look at the field of racers lining up for the Whiskey, I knew a tall order was on hand, with Evan Plews and Dax Massey (National champs)doing the event this year.  Unbenowith to me, my former 24hour SS Championship teammate, Cameron Chambers (former Gary Fisher Pro) showed up for a piece of the pie, I was supper stoked.  A great compadre and someone I have the utmost respect for in the world of cycling, once a 22-year-old who kicked Tinkers ass when Tinker was at  his prime during the 24 Solo at the OP.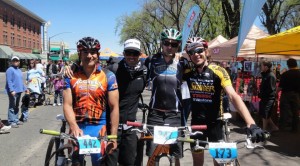 There was also alot of talk of Dejay riding super strong and my good friend Mike Melley, who was schooling every SS in the state.  Fuzzy, the course record holder was also racing.  Therefore, it set the stage for my hardest race of my life yet.  Running a smaller gear ratio than all of the above, I knew I would hit the pain cave early, hoping I could recover by the time with hit the first major climb.  Those who have raced Whiskey (Rick, IB) know that the first three miles of the race will most likely determine the outcome of the race!  With that in mind I had to do whatever it took to hang on.
The field size started somewhere in the vicinity of 350 riders and my biggest challenge was staying in front of the faster gear riders who lack in climbing ability or love their granny gear.
Once the race started  I was able to stick with the lead group that consisted of around 15 riders and included 7 SS, the pace was insane and I had already been above my heart rate threshhold when we hit the dirt.  I lost contact with all the SS and only had to gearys in front of me, but I could not recover with no power to pass.  Finally, halfway up the first climb I made my move and passed the two riders and closed in on Mike Hilleman (NV), five time Whiskey champ, I was stoked, because honestly he was the one I was gunning for, there is story behind that.  We rode together when we hit the first technical descent of the day, he let me pass and I said "goodby to him," in my mind anyways!  On the final descent after the first climb, I reconnected with Melley, I believe he had stopped because he dropped his chain.  We road out of the canyon together and caught up to Scott Morris right before the 25 mile junction turnoff(50ers turn down Skull Valley Rd).  I took lead down the road and opened up a gap, expecting both of them to catch me right away, but wasn't the case.  Finally a couple of miles before the turnaround, Morris came flying by me and I jumped on his wheel.  He was cool and let me draft the rest of the way down.  A few minutes before we reached the turnaround at the bottom of Skull Valley, Kenny Wiens (No Tubes from CO) was setting the pace back up the climb with Dejay, Chambers, Massey, and Plew right behind.  Holly crap! I'm in 5th with Melley charging behind.  
The climb back up was long and brutal with some good head crosswind, which seemed blow harder on the steepest sections of the climb.   Halfway up the climb, 12 -mile climb I believe. I had Chambers in my sight.  He was laboring and I knew he was done!  I rode up to him, chatted for a sec and was on my way.  I had ran out of water a few minutes later and contemplated on stopping at the next feed station, a homey from SV was supposed to give me a feed at that point, but I wasn't sure if he would be there on time. 
Once I reached the aid station, my friend was nowhere in sight, only faith was on my side because I took the risk of bypassing the aid.  When I road around the next bend on the road, he popped out of nowhere and gave me the best greeting that I have had in long time, perhaps because I was becoming dehydrated and he gave the best medicine of my life.  So far everything was going as planned, except that Melley had made a big surge and caught me.  Yet, not really disappointed because I had surpassed my expectations of even being anywhere close to him in the race and the fact that we had made contact with Dejay Birtch.  Dejay looked back and saw us charging and literally put the hammer down.  Mike and I worked together (it's actually possible in a MTBike race) and closed the gap.  But, when we got off Skull Valley Road onto the last final downhill section of single track, he was gone.  We thought we were chasing a ghost, that man can descend, but we kept the pressure on.  Miracullously we reconnected wtih Dejay at "Cramp Hill," last and final steep-loose-rock climb (sound familiar).  Dejay was pushing his bike and was running scared, while Melley stomping on his pedals and cleaning that section like a man on a  mission.  I dabbed and hiked two or three steps before I jumped on my bike like a kid running away from something. 
Dejay and Mike had gapped me at that point and the pressure was on.  Yet, I kept Melley in sight.  Once we got back on the blacktop for the final stretch of the race, I had Melley and Dejay in sight but I knew at that point that I had the smallest gear and hope of catching them was slim.  Thinking of the shootout, I surged and surged until I caught Melley.  We worked together and pacelined until we had Dejay in sight, but it was too late, both of us realizing we could not close the gap with the finish line nearby.  Melley and I rode to the finish line together with neither one of us caring who took the next podium spot.  We actually had the same finish time. Evan Plews, Dax Massey, Dejay Birch, Melley and Mua respectively.  
I set a new PR for this course improving my time by 13 minutes and the old course record by 5 minutes. 
Meanwhile, Adam and Aaron were also killing out on the course.  Aaron finished 3rd in the 25 mile race which consists of the hardest section of the course and Adam, well, he litteraly destroyed his last years time by more than and hour I believe (he can report on that) and finished sub-four hours which would have put him on the podium all the previous years.  My teammates are very strong cyclist and great human beings, I feel honored to ride with them on our team and call them my friends.  All thought they might know it, they inspire me ride hard and represent AGGRESS!!  – Beto 50 proof
     I had no idea who my competition was in the 25 proof, but HOLY SMOKES, there was a lot of it! Beto made it clear that I needed to go out hard on the paved start so that I would beat the massive group of riders that would clog the singletrack. This meant I needed to be at the front for the start. The problem was that the start line began lining up 30 minutes before the race……so much for a good warm-up!!! I got right on the second row and shivered and twitched for 30 minutes, but when I looked back and saw the mass of close to 700 riders, I was glad I did! I have to say, there was some high dollar singlespeeds near the start and I had no idea who was fast and who wasn't. Well, we finally started, and the front group started FAST, but I knew I needed to spin like a mad man to stay with the lead group of geared dudes. Thats exactly what I did, and managed to stay with the lead group of about ten until we hit the singletrack. I knew there was one singlespeeder ahead of me, Riley Post (Team OVB), who was with the very front, but I knew I hit the singletrack second. Hot on my heels were several other singlespeeders, including Dan Hight (Cross-fit), and Tobias Walker, both of whom were very strong local riders. They were chasing hard, but I managed to keep a small gap ahead of them for all of the first round of climbing all the way to the first long descent. I was moving really well down the long descent and thought I was ceating an even bigger gap, but much to my dismay, right at the bottom, Dan Hight caught up to me! The dude is one crazy fast descender! We rode for a while up the next round of steep climbing to the second aid station. Dan started to get a gap on me the further we went up. I was focusing on not blowing up, and I truly thought I would reel him in on the climbing after the second aid station. Unfortunately, this is where not having pre-ridden the course proved to be a mistake. the climbing got far less technical after the second aid station, and though I was climbing well, SO WAS DAN! Couldn't close the gap, so I was now riding in the third place singlespeed spot and the 5th spot overall out of all the 25 proof riders (Geared or SS). The last part of the course was clogged with many of the 50 proof stragglers and slower riders, and I have to say they were a little possessive of their spots on the singletrack. I don't blame them I suppose after coming so far. This made my chance at running down second place even less possible. It was a total blast bombing the last sections of singletrack to the pavement though. Once I got back to the pavement, it was time to spin like crazy again for the last few miles to the finish. I had three geared fellas pace-line it by me, which meant I was now sitting 8th overall, but I was more worried about the SS cat. anyhow. After a mile or so, I could tell someone was on my wheel, and when I turned around, IT WAS TOBIAS WALKER on his singlespeed! NOOOOOOOOOOO! I knew I had to make a move. Right as we were approaching the brink of a long downhil descent, I spun out as fast as I could, and then jumped way up over the front of my bars, and coasted away, PHEW! I wasnt leaving anything to chance, though, and I had my SS spun out until I crossed the finish line and claimed the Third spot on the podium!!! All in all in was an amazing weekend! I have to say though, I am like Beto, in that it is the friends and hanging out and re-hashing the races and riding experiences, that is the REAL RIDE!  – Aaron – 25 proof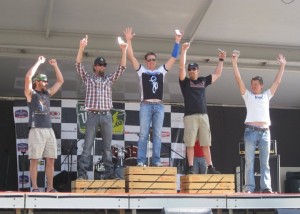 Comments