State Hill Climb Championship
State Hill Climb Championship – Congrats to new AZ State Hill Climb Champ Doug Perry!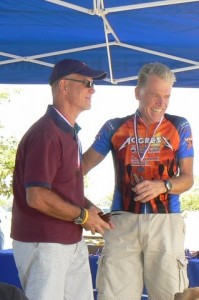 After the beating I took at Kitt Peak last week, I decided to limit my pain and did the 10 mile instead of the 20 mile. When I woke up I saw that it was going to be about 82F at the start of the race, but figured it would only be getting cooler as we climbed … wrong! It was plenty hot (until you got to the very top, at least that's what I heard). Although it was by no means my best effort, I was able to come in first in my age group and will get the polka dot state champ jersey … that's pretty cool. Maybe next year I'll do the 20 mile route with the rest of the team … but  only if I train better and get back to AZ earlier to get used to the altitude and the mountains. Spending the summer at sea level in Pennsylvania has definitely not helped! – Doug Perry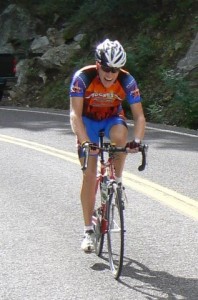 It was gorgeous!  Thanks for the cheer.  I must have done something wrong though. I meant to take 10 minutes off last year's time, but instead I added 15 minutes.  Honestly, I think I got way too systematic about the whole thing.  Much too much planning and thinking about it…the perfect bike tune, the perfect nutrition, the perfect warm-up.  (Sorry, Doug, I was in the middle of my perfect warm-up  🙂 Our wives got to chat at least) 
Anyway that Mt. is a BAMF, and I was not.  When Paula's teammate and Jo Roberts passed me with 5 to go I knew something was really up.  No slight on them, they are great riders butcome on!  Then, I was suffering leg cramps for the last 3 miles to ice that crap cake of a time trial.  Well, my two year old still clapped for me and I got a great roar from Gus and Leo at the top. They might have been mocking me but I was too tired and cramped to care.  BTW Did anyone know that Gus is actually from Brooklyn? Ha-ha, that guy was funny, huh? 
Jim Averill
I got 9th of 18 Cat 3's and it nearly killed me on the mountain.  Post race, I felt relatively good and cold (as I spun out the legs to mile post 136).  I love this race, the mountains were awesome (thick cloud cover that from the bottom looked like the race would be called off by mile 12), the camping at arcadia (mile 11, mile post 125) was great, fresh air and the top to Riggs Lake (32 miles up.beware last 12 miles are dirt road) was great with trout fishing and some osprey cruising around. 
Eljet
I had a strong day on the bike, didn't have the back cramping I suffered on kit keeping me at about 70%. Instead I was on last years stated champions wheel for about 5 miles letting him set a pace that I thought would surely get me to the top with a killer time. But then I grabbed my balls and said whateva (as we say in Brooklyn) and took off to never see his slow ass again. then grabbing the wheel of another state champion for a few and didn't want to make the same mistake twice and attacked on him too, never to see him again. Feeling like a bad ass New Yorker that I am now, just went as hard as I could to the finish line putting a couple dozen riders behind me. Thinking that I was behind the first pack of rider to the finish line, I noticed that half of the entire field was already there, eating, clothes changed, and ready to go home. What the fuck? 
 So I'm hangin' up the bike till next year. Great riding with you guys.
 Salute
Gustavo Ramirez Amado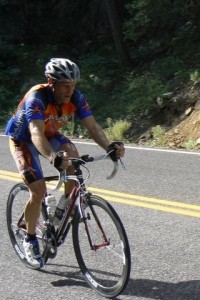 Comments