North End Classic
From Elliot Anderson: Day 1 – Got 3rd (of 14) in the Cat 3 crit, a lot of turns, a kicker short hard
uphill on the back side of the course, rough bumpy terrain throughout (concrete, asphalt, tile, pot-holes) but Im good at technical turns and fast corners etc (8th in tour de gila technical crit and tucson wed night crits are similar) and the kid in front of me right before the final turn was cooking and wiped out hard (i knew he was going too fast for his own good,tired and sloppy, happens to everyone, but he looked dangerous right before he went down..) and almost hit him but then stayed upfront and got 3rd behind a short stocky Bicycle Ranch racer and a young kid was was strong all day (who also won 3 of the 4 primes'!!)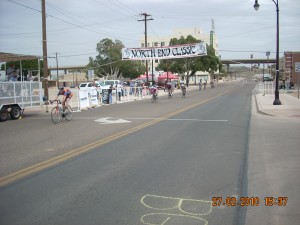 Day 2 – Y and Kurt were amazing out there today – attack after attack and solo TT to create chasing and a bad ass lead out totally delivering me to the line beautifully.  Got 6th in the day (4th and 5th were the same 1st and 2nd from day 1) and places 1-3rd today were yesterday's finishers of 6th, 4th and 15th respectively, but enough to bump me from 3rd to 5th (even though there was a tie for 3rd).
I learned a lot and felt honored to have the guys work for me.  Got 5th overall, $40 cash prise and 2 more points towards cat 2, only 22 to go!  ahahhhah!!!
2010 NEC Old Guy Crit report. By Rick Ellwanger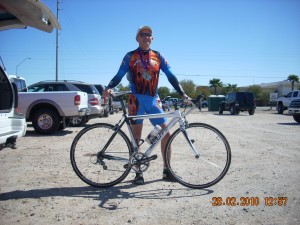 50+ and 60+ guys raced together; about 20 total.  The 10 turn course winds thru the historic "Old Town" district of Yuma and includes a 2 block long hill.  There were only a few other guys in the 60+ class and I made a point of keeping track of where they were.  At the start of the final lap I moved to the front of the peloton and started to gradually pick up the pace.  I knew I had only 1 serious competitor (Roy Quade from Calgary Canada who had finished 3rd gc in VOS) and he was at that moment 5-6 positions back.  I knew Bob Pongratz and other 50+ guys would pass me at some point  during the lap and my plan was to force my way onto a wheel as they went by and try and stay ahead of Roy.  No one challenged for the lead on the hill climb which surprised me a bit but since they didn't I made sure I took the next 3 downhill turns at the highest speed I could muster to discourage passing.  Finally at the end of the longish straightaway going into the last 3 turns Bob Pongratz and 2 other guys overtook me.  I accelerated a bit to get on rider 3s wheel and then we were thru the penultimate turn heading for the last turn and continuing to accelerate.  I turned wide and carefully on the final turn and I was able to pedal all the way thru the turn at max effort and I just continued to grind across the finish line.  Turns out Roy was on my wheel going over the line but that was the best he could do.   Eureka, the plan worked!
In fairness, he enjoyed revenge the next day and beat me in the circuit race.
Comments