Superior RR
4 Aggressors were present for this Saturday's Superior Road Race. The course was an out-and-back, with a rather large and steep mountain in the middle and rolling terrain for the rest. THE HILL created an amazingly fast descent on the way out (at speeds close to 60 mph) and an amazingly backbreaking climb on the way back.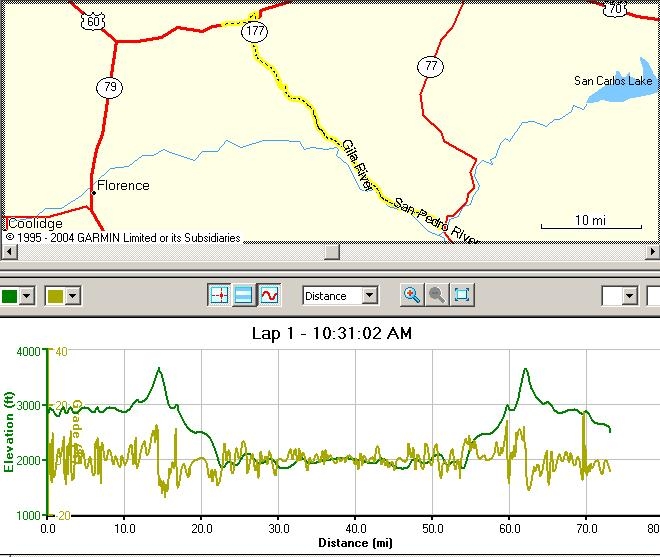 Start/Finish locations are approximate.
Rick Ellwanger flew the flag, riding in the combined masters 50+/60+ field. An elite break containing Franz Hammer escaped on the east side of THE HILL on the way out, and the rest of the field could not react. The break was still out in front when the peloton returned to the western ascent of THE HILL. Rick got away with a Southwest Hand rider on the climb, but was reeled back in on the descent. He survived the dicey downtown sprint (the promoters needed to take more steps to ensure the safety of the finish) and was first across the line out of the peloton, finishing in 5th place.
The Cat.4's had a strong team present, with Elliot Anderson, Victor Riquelme, Kurt Garbe, and the pledged support of Summit Velo's Justin Orkney. The field was of good size, with over 35 racers at the start. Kurt was designated the leader for the day, and Vic and Justin were charged with protecting his interests. A 3 man break got away after the eastern descent of THE HILL. Riquelme and Orkney worked very hard at the front on the way back, and the break was within sight upon reaching the base of THE HILL. The main field was shattered by the climb. Kurt came in with a small group in 8th place, Elliot in the next group on the road finishing 12th, and Riquelme rolled in solo in 17th.
Comments